Termites commonly found in Pinellas County and Tampa Bay area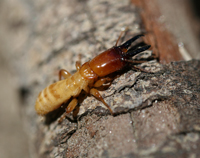 There are 3 main types of drywood termites in Florida, and I've seen them all right here in Pinellas County and throughout Tampa Bay: The West Indian drywood, the Southeastern drywood, and the Western drywood termite. The Extension Service of the University of Florida states that the West Indian drywood termite is never found in natural environments, only in man-made structures. Its head  resembles a burned match. Correct identification of the termite is required for proper treatment. Certain types of termites require different extermination methods. If you don't know what type of termite you're dealing with, contact us and set up an appointment for an inspection.
Identify Termite Damage and Infestation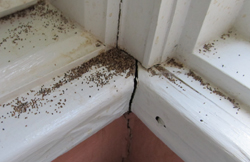 One of the signs of infestation is termite pellets - otherwise known as "frass". It looks like coffee grounds and can range from light tan to black in color. Another sign can be the presence of termite wings. Those are commonly found on window sills, and on floors or countertops. Termites can eat through the middle of wooden structures, leaving the surface area undisturbed. Tap on the wood with the handle of a screwdriver, or poke it with a pointed object. If it sounds hollow or collapses, you probably have incurred termite damage.
Prevent Termite Damage From Getting Started
Not only do termites damage homes and other wood products, but they can actually destroy agricultural crops such as potatoes, corn, cotton, and sugar cane.  Termites cause billions of dollars in damage each year to property. To prevent damage to your home, all wood located less than a foot and a half from the ground must be treated. Exposed wood can be treated with borates. Painting exposed wood can provide a barrier as well. Remove decaying wood, plants, cardboard, and other rotting wood or plant-derived materials from around your home. Keep your gutters clean. Inspect lumber, plywood and used furniture for signs of termite damage before bringing them into your home. The University of Florida's Extension office recommends that you screen attic vents, doors, and windows with 20 mesh.
Termite Control Treatment
If the damage has already been done, but is localized to a few areas, it is possible to remove and replace damaged woodwork or directly treat the wood and control the outbreak. If the damage is more widespread, you might need to tent and fumigate. You can also heat, freeze, microwave, shock, or use orange oil in certain situations. Talk with your local licensed exterminator. Be sure to ask for references.
---
Our Service Area Includes:
Tarpon Springs
Crystal Beach
Palm Harbor
Ozona
Oldsmar

Dunedin
Safty Harbor
Clearwater
Belleair
Largo

Pinellas Park
Kenneth City
St. Petersburg
Gulfport
Treasure Island